| | | |
| --- | --- | --- |
| Welcome | | You are not currently logged in. |
What's a Firefighter Worth
From the Valley Breeze Newspapers, May 2, 2012 (http://www.valleybreeze.com/)
Written by Tina Clarke, Proud wife of a Cumberland, RI, firefighter
There has been so much talk recently about things like containing costs, lowering taxes, and those who work in public safety being overpaid - particularly firefighters - that it could make your head spin. We've all done the "simple math," crunched the numbers, and it all seems to boil down to a simple question. What are firefighters worth? I guess that depends. We live in a country that seems to have forgotten what our priorities are. A man can be a skilled athlete who happens to throw and catch a football well, and make millions and millions of dollars to do so. And we as a society are not only OK with that, but we gather in front of our televisions and cheer that man on. Meanwhile, a firefighter kisses his children goodbye before every shift knowing the harsh reality that it very well could be the last time he will see them, and he is fighting tooth and nail for decent health coverage and substantial pay to support those children. He is the man that you call when your elderly father has a stroke. He is the person that will extract your 16-year-old son from a mangled vehicle on the highway in the middle of the night. He is the person that will be there in a heartbeat when your newborn infant stops breathing. He is the person who is exposed to countless dangerous scenarios and has seen horrific things during his career that would psychologically haunt most of us for the rest of our lives. We trust him to save our homes and belongings in the event of a disastrous fire, and we trust him to keep us breathing and our hearts beating when we face our most critical moments. What is he worth to you? He sometimes will go days without sleep, and make life altering decisions on every call he shows up to. He has missed family meals, bedtime stories, Christmas mornings, school plays, anniversaries, Thanksgiving dinners, and his own children's birthdays. We all know that life is so very short, and firefighters sacrifice precious time with the most important people in their lives to save the lives of the most important people in yours. And now they have to defend and protect their pensions, well deserved health benefits, and their paychecks. It has been proposed by some that they lose many of their benefits, and work extra shifts that they will not be compensated for. There seems to be a serious misconception that firefighters are in it for the monetary gain, and more and more often have been portrayed in a negative light for actually expecting to be compensated for the sacrifices that they make to do their job. For an individual that has chosen this selfless career, it begs the question: Is it worth it? Most of us are willing to pay a little extra for something if it is important to us, whether it be the shoes we wear, the doctor we choose to treat us, or even the cup of coffee we drink. It is something that we value, therefore it is worth the cost. Most would agree that our safety and protection is of unmeasurable value. Those of us that are skilled in math may look at the numbers and think that stripping those who serve our public of their way to earn a decent living is an answer to a financial equation. But firefighters and their families are not numbers on a piece of paper. They are human beings that are doing their jobs every day to the best of their ability, and possibly sacrificing their own lives for the life of a stranger. Not many of us in our right mind would do that for free, and no one should have to. So before making our minds up that firefighters are the financial problem, sit down with a local firefighter and ask him about his job. Ask him about his wife and his sons or daughters, what kind of house he lives in, and what type of car he drives. And then ask yourself, if you were to take on such a career, what would you expect in return?
| | | |
| --- | --- | --- |
| | | |
| | | |
| | | |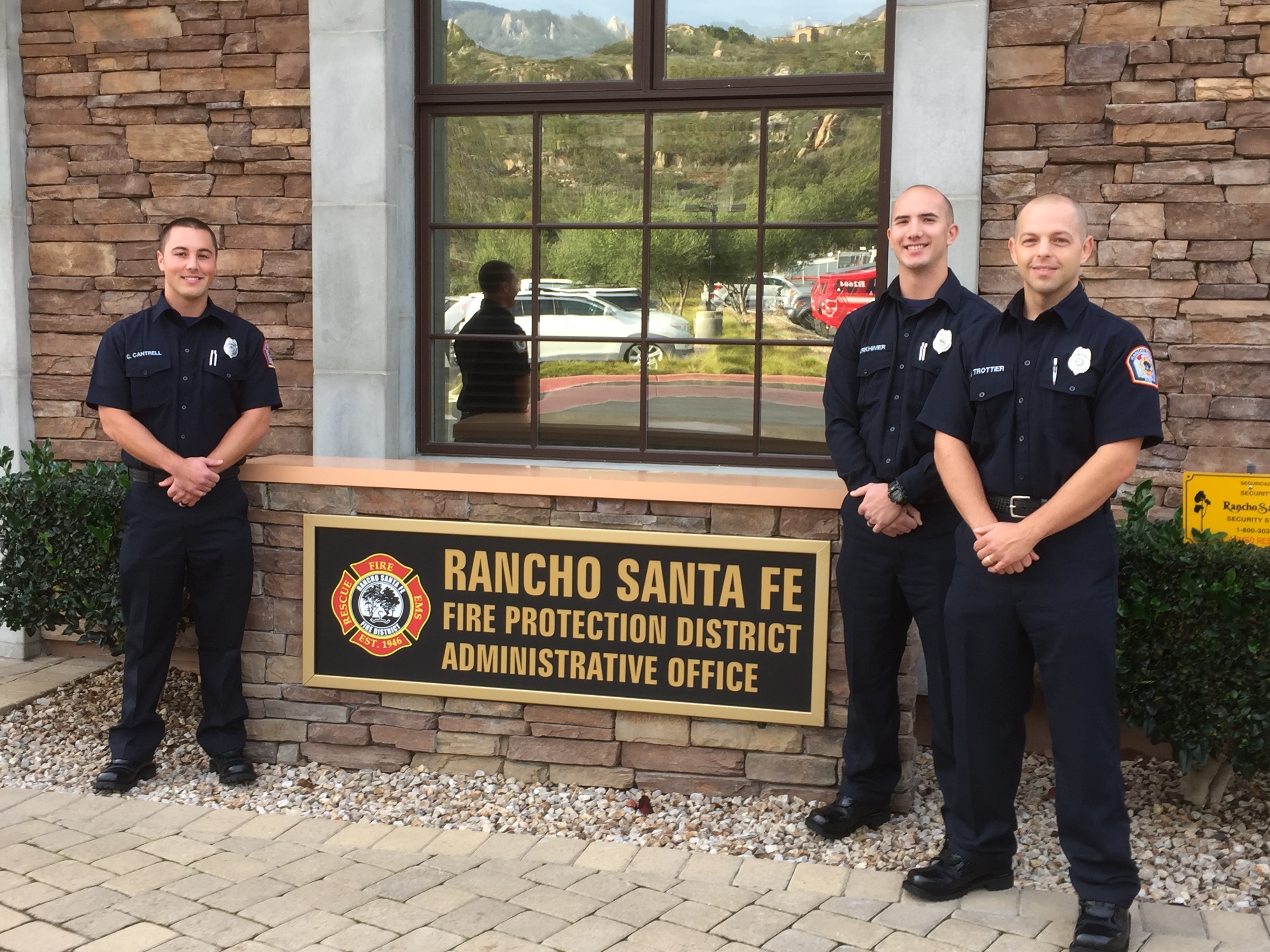 The Local 4349 would like to welcome to the District 3 new employees!
(Left to Right) Chase Cantrell, Jake Barkhimer, and Alex Trottier.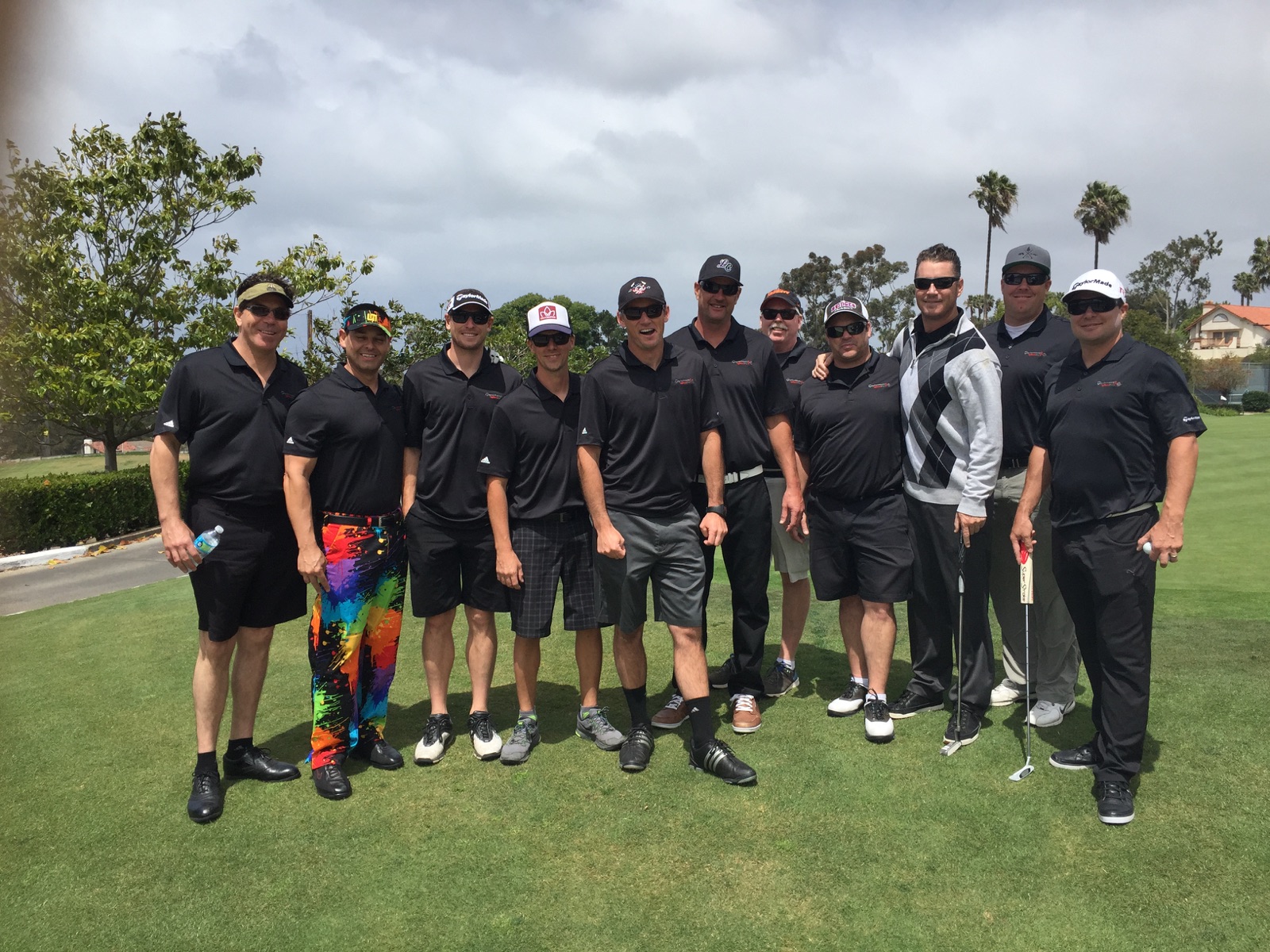 Rancho Santa Fe Local 4349 raises money for charity by participating in the 2nd Annual Guns and Hoses Golf Tournament. All proceeds go to help wounded and disabled vererans through the Phoenix Patriot Foundation. http://phoenixpatriotfoundation.org/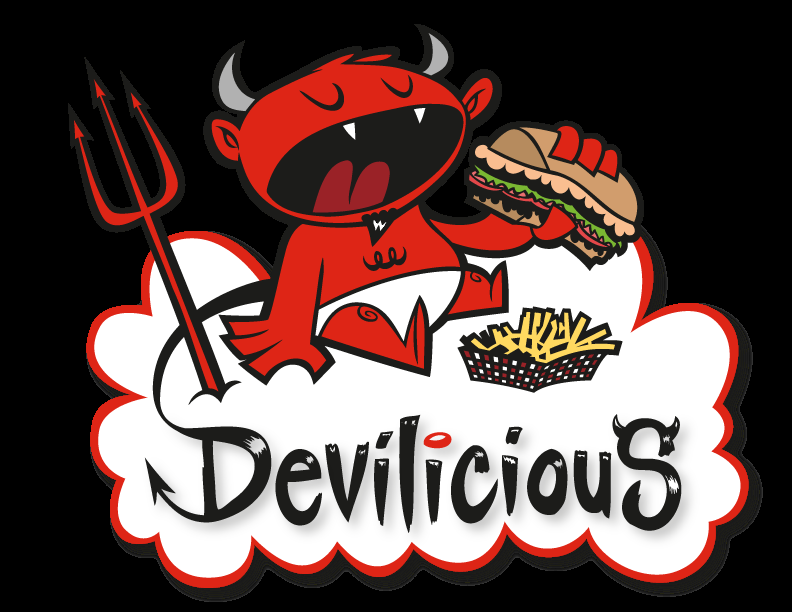 Join the Local 4349 at the Devilicious Eatery for Pint Night to raise money for the 9/11 Charitiable Stair Climb.
June 22, 2016 5:30 to Close.
28693 Front Street, Temecula, CA 92590 (Old Town Temecula)
Last year was a historic year for the RSF Firefighters Local 4349 Stair Climb Team as we had our largest team ever and we became a fundraising powerhouse for the benefitting charity, FirefighterAid. It was awesome to see our Local come together to remember 9/11, along with wives, kids, and friends. Read More...

IAFF Local 4349 has its best year yet in collecting donations for the San Diego Burn Institute. Drivers traveling through Rancho Santa Fe, 4S Ranch, and Harmony Grove were generous to the tune of nearly $25,000. All donations, as usual, go to the Burn Institute's "Camp Beyond the Scars" in an effort to support burn-injured children of San Diego. RSF Fire, the Burn Institute and the children thank you.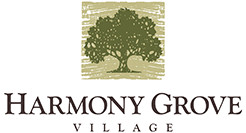 Beginning on January 1st, 2016, the Rancho Santa Fe Fire Protection District has assumed fire protection for the area of Harmony Grove under a contractual agreement with the County of San Diego. A LAFCO study should be completed by mid-year making official the annexation. In addition to this 5th station, the Rancho Santa Fe Fire Protection District will be merging with Elfin Forest Fire Department to make the current EFF volunteer station, station number 6. The current Station 5 in Harmony Grove is a temporary station at 2604 Overlook Point Road in Escondido near the entrance of the HGV development. We at the Local 4349 are excited to provide our excellent customer service and fire protection for the new residents of Harmony Grove and surrounding areas.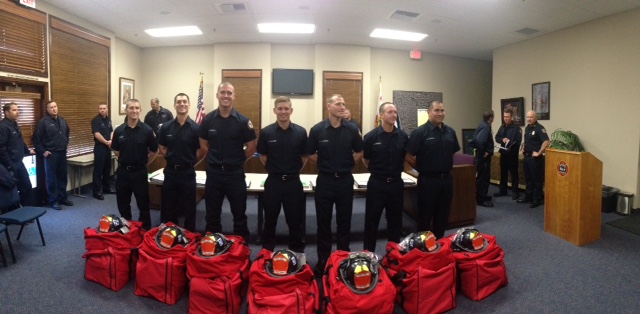 Local 4349 welcomes 7 new recruits
Firefighter Pancake Breakfast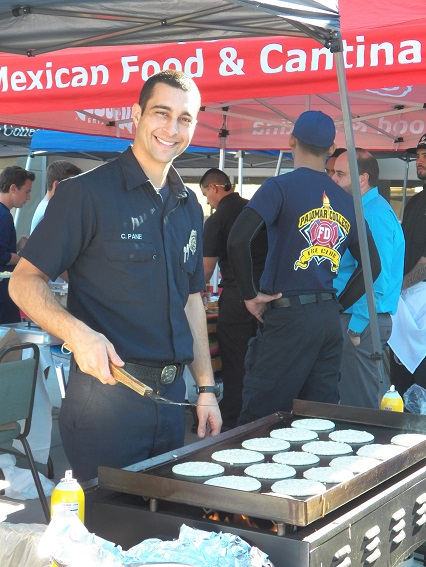 Rancho Santa Fe firefighters are proud to serve. We serve residents. We serve businesses. We even serve pancakes! On Sunday November 8th, the Local 4349, in conjunction with the Rancho Santa Fe Fire Protection District, host our most successful pancake breakfast of all time. 800 - 1000 people attended raising over $4000 for charity.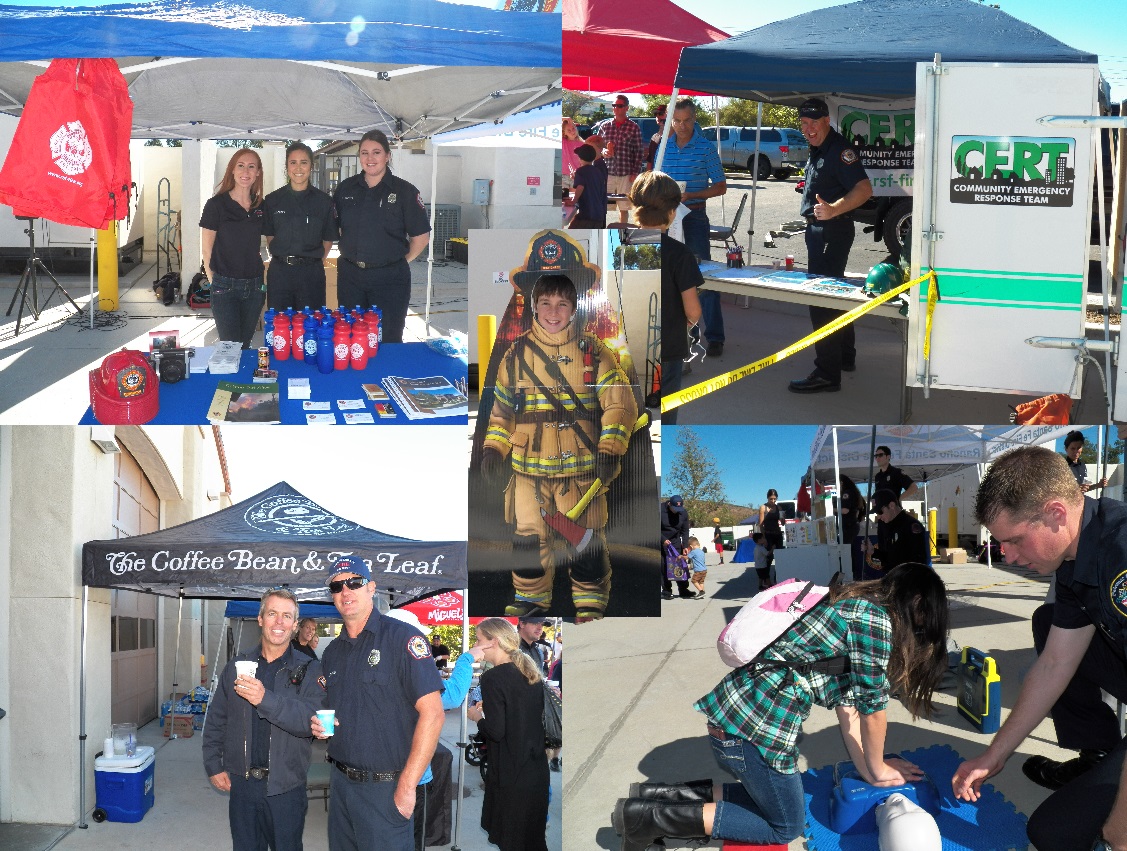 In addition to pancakes donated by Ralphs grocery store, Miguel's Cocina donated and served eggs and nachos, State Farm donated and poured orange juice, Coffee Bean and Tea Leaf provided gallons of coffee, and Maranatha Chapel provided tables and chairs. Without the generous support from these local 4S Ranch businesses, this would not have been possible.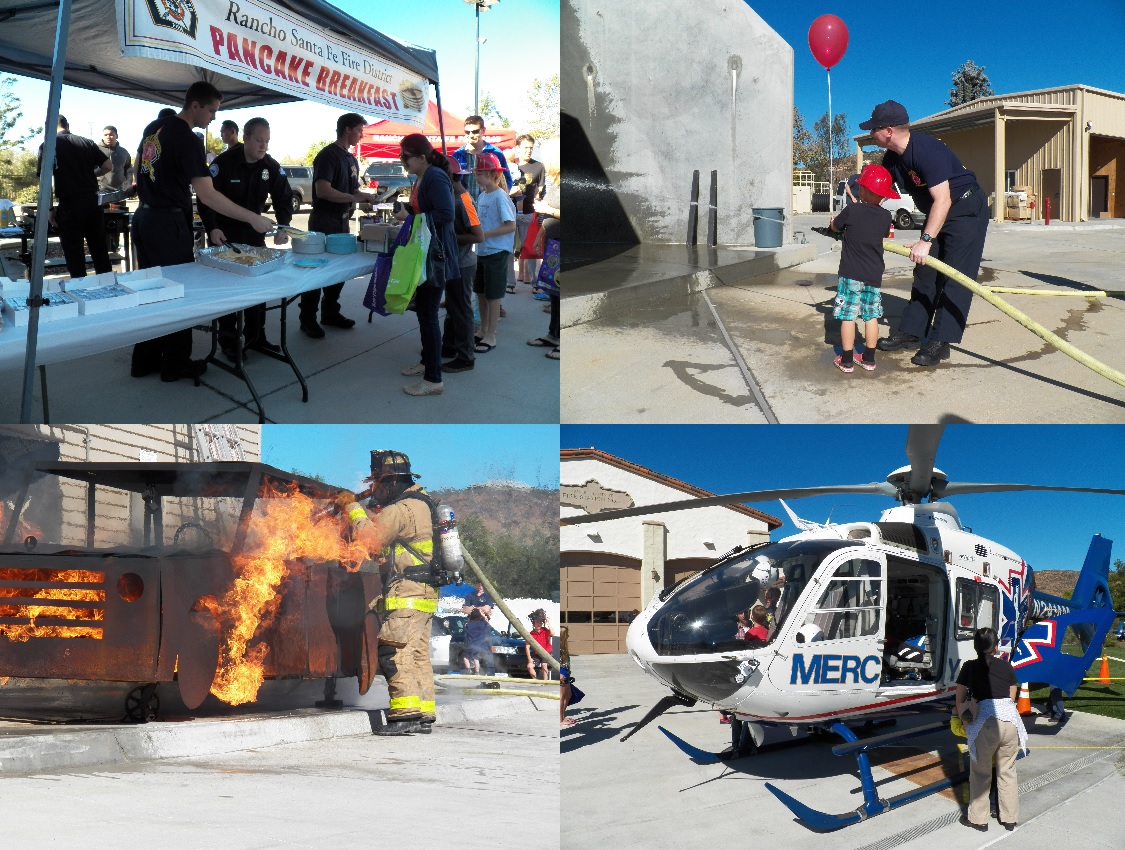 Rancho Santa Fe firefighters were on display with an exciting car fire extinguishing demonstration, fire engine display, fire prevention booths, and hands only CPR training. Other booths from the Burn Institute, 4S Ranch Library, and Union pool safety further educated the attendees. The San Diego Sheriff, California Highway Patrol, Elfin Forrest Fire, American Medical Response, Mercy Air, and Palomar College all pitched in to provide exhibits and education to the residents of 4S Ranch.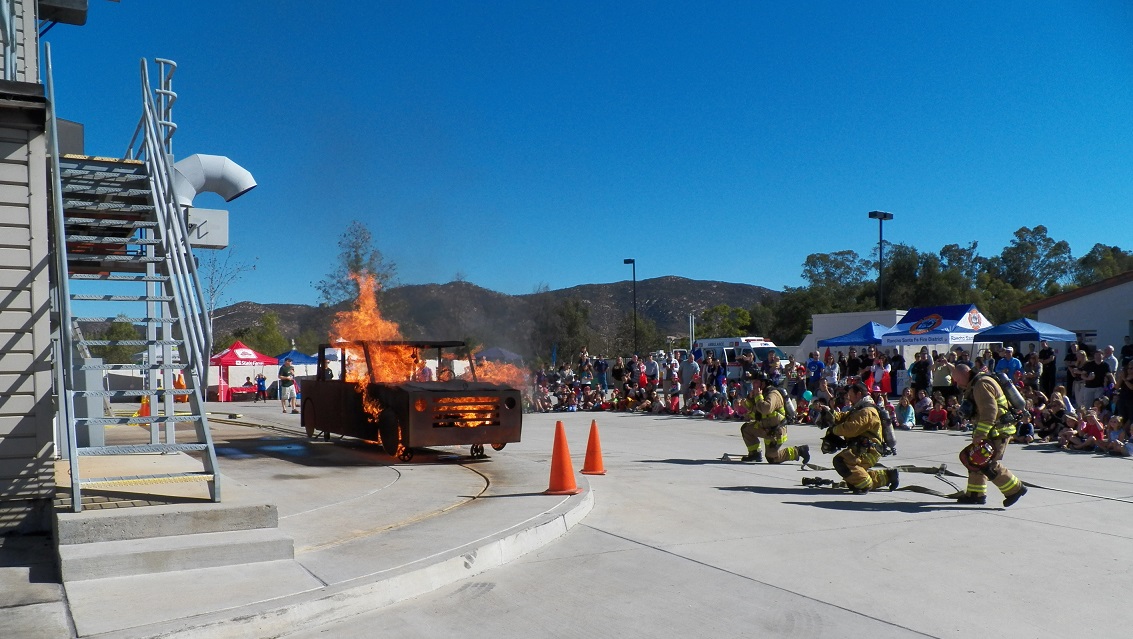 We at the Local 4349 Firefighters Union would like to say thank you for making our event a resounding success. It has been, and will be in the future, a pleasure to serve this amazing community. We look forward to possibly hosting another event like this next year!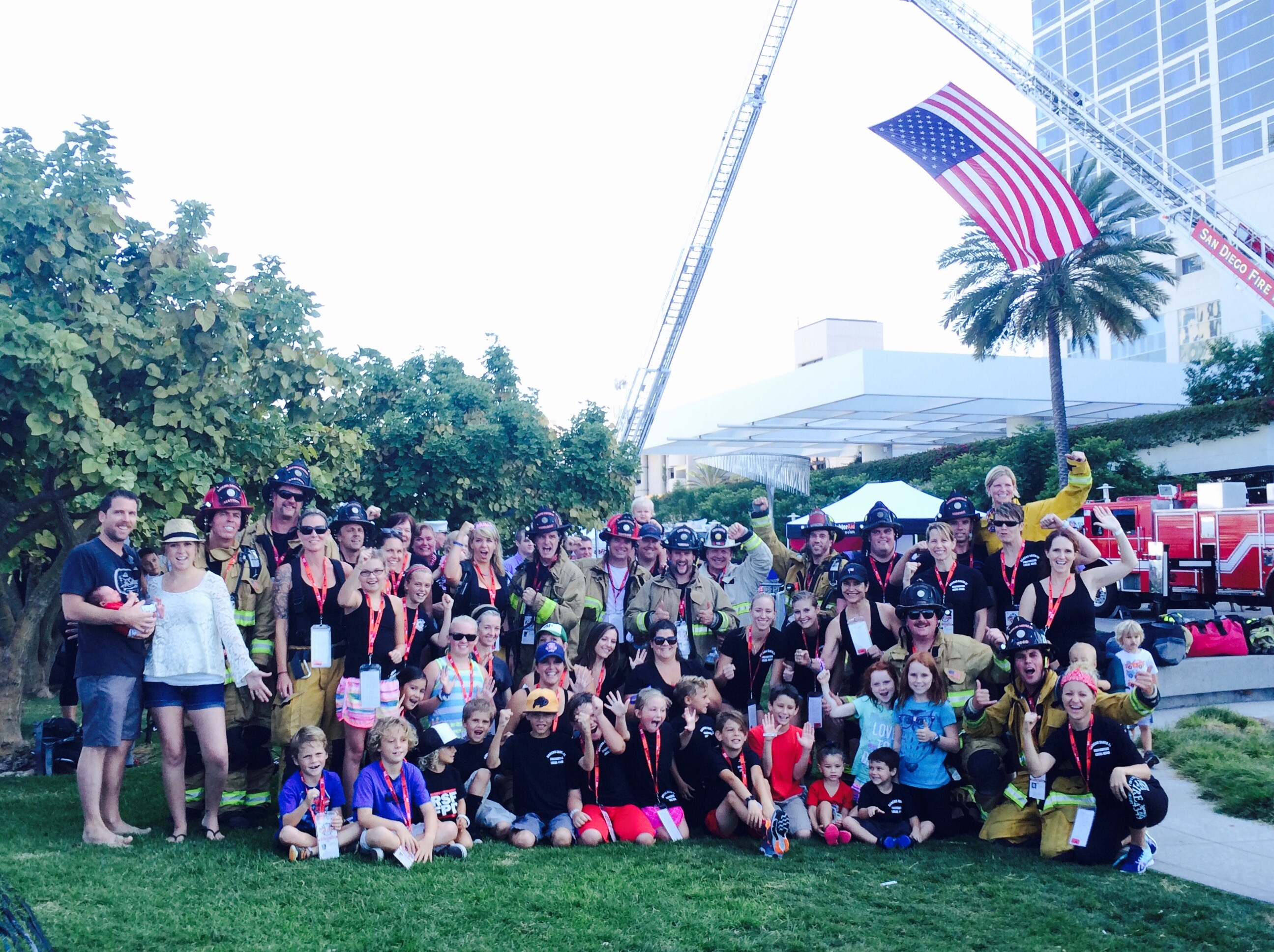 On Saturday September 5th, the Local 4349 took to the steps for charity. The 9/11 Memorial Stair Climb is an event where firefighters and first responders don their gear and climb 110 stories of the Hilton Bayfront Hotel in memory of the 403 emergency workers who lost their lives on 9/11/2001. The Local 4349 raised $10,500 for Firefighter Aid and it was the 2nd most money raised by the 25 teams.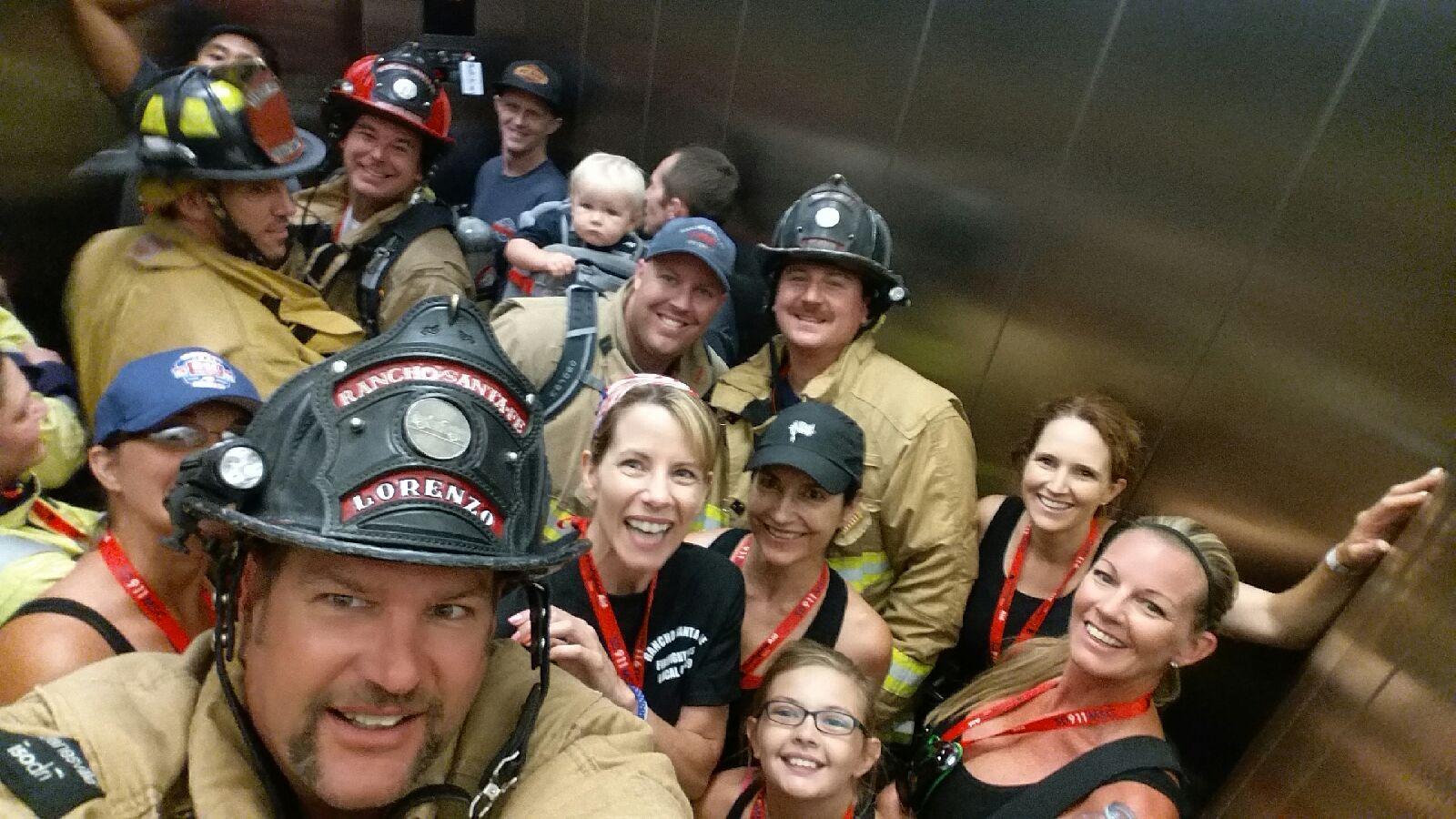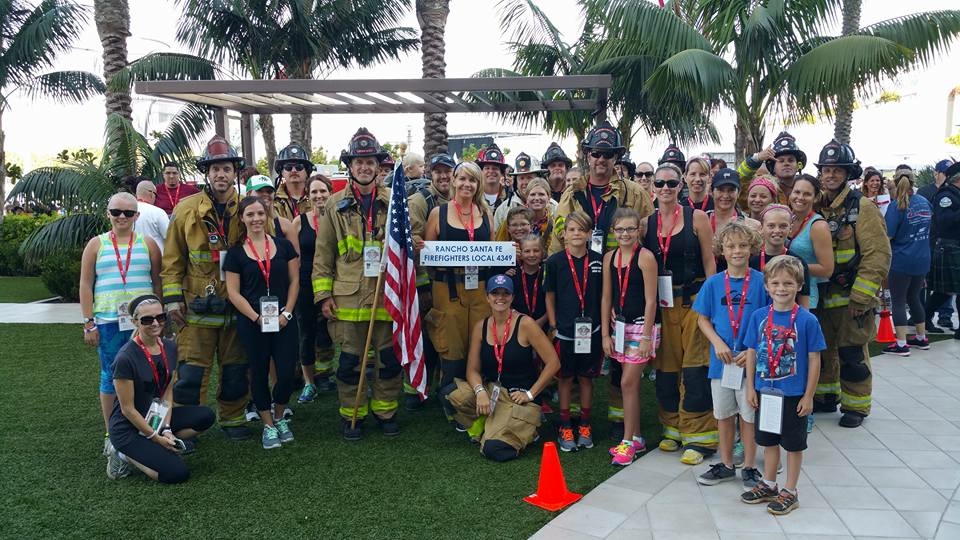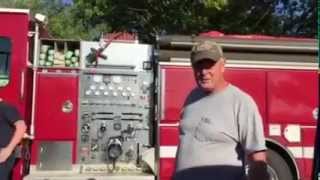 A recent video on the internet portraying a Butte County Fire Company being heckled by a citizen for shopping for groceries brings forth an interesting issue. The debate ranges in topic from area emergency coverage, public impression, and firefighter work schedules. The Butte County firefighters were respectful and cordial in this face of opposition and all was caught on tape by a pro-firefighter bystander. The heckler in the video confronts the firefighters at a local grocery store as they are returning to their fire engine after shopping for food. He goes on to state that the engine crew should do their shopping at a specialty high-end grocery store that is closer to the fire station so that they can respond to calls faster. This man making these remarks fails to grasp the entirety of the facts as he threatens to file a complaint with the local governing board.
From my own experience with the residents I speak to, many don't realize that we work twenty four hour shift work. That means we arrive at work in the morning at 8am and leave the next day, twenty four hours later, at 8am. It seems obvious that packing a mere lunch would not suffice for the entire shift. In addition, our kitchen is the size of a normal residential kitchen equipped with one range top, oven, microwave and sink. Often these stations house multiple fire units and companies to run them in upwards of 8-12 personnel. Imagine the confusion and lack of space there would be in a kitchen having that many people trying to prepare their own meal at the same time. That is why most full-time fire stations across the country organize their meals by participating in a common mess. That means that each person pays into a meal fund and a few guys cook for the masses.
When I tell residents that we purchase our own food on our dime, they often reveal that they thought the tax payers paid the bill if they expected the firefighters to be there twenty four hours a day, seven days a week. I've heard stories about firefighters being heckled for buying steaks at the grocery store because it was perceived that taxes were paying for those steaks and firefighters should be eating cheaper. The truth is, we by our own food and it is often more expensive to eat at work than at home. I can see why the Butte County firefighters bypass a specialty grocery store to opt for an affordable store a little farther away. After all, we are just firefighters, earning a modest wage, often on a single income due to our commitment, and trying to make our money stretch.
Emergency coverage is taken very seriously by every emergency responder agency across this country. Often units are moved, or staged, in areas to maintain coverage for when a unit is out of service due to mechanical issues, training, or commitment on another emergency. It is unlikely that a unit, in this case Engine 64 of Butte County, would leave their response area to shop without providing for some coverage. Often the grocery stores fire engines visit while on duty are within their first-in areas, but if not, managers make sure that stations are covered by other units if need be. The grocery store may not be the only place you may encounter firefighters out of the station. Fire agencies often rely on fire companies to conduct annual fire inspections in commercial buildings, including the grocery store they are also shopping at.
Firefighters make an easy target for some disgruntled members of the public that don't approve of how their tax dollars are spent. Much like the often ridiculed traffic sign holding road worker, each person has a job to do and without that one person the team breaks down and efficiency is lost or, in our case, lives are put in danger. The importance for a person to "Stand-by" for an emergency is rarely seen until the need arises. The fire service has changed throughout the last hundred years but the premise is still the same. Protect life, property, and the environment from the threat of any disaster and to respond to the needs of the citizens we serve in the most efficient, timely, and fiscally responsible manner possible. It is a shame that some people's negative rants are aimed at the same people who have sworn to protect them. However, these attitudes are rare, especially in Rancho Santa Fe, and we are more likely to be greeted and thanked while in the grocery store than heckled for being there, and for that, we thank you for your support.
PulsePoint App saves lives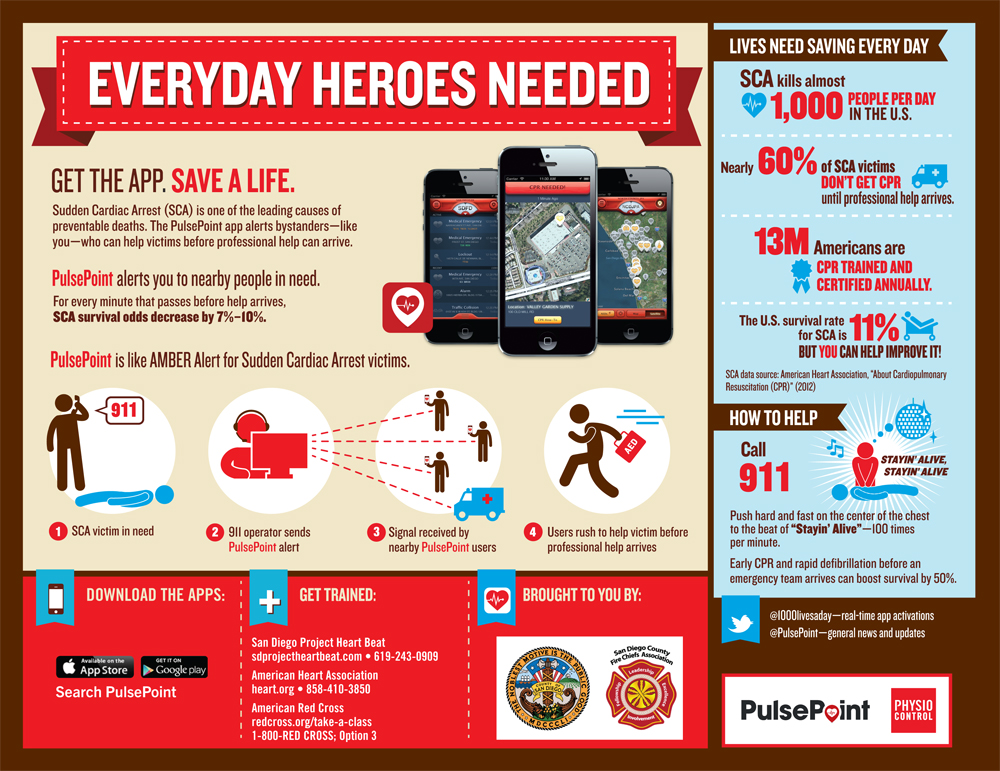 It was nice and sunny the day Captain Greg Rainville and his wife decided to visit the San Diego Zoo. As they pulled into the parking lot, they noticed a commotion over on the sidewalk. As they approached, they saw a man unconscious on the ground. Emergency situations were not unusual for this twenty four year veteran of the Rancho Santa Fe Fire Protection District so he jumped right in. Rainville began chest compressions immediately when he discovered that the man had no pulse. In the end, that man was given another chance at life due to Rainville's actions. Had he not noticed the group and commotion, there would have been no way to know that there was someone in the area that needed help.
A new app from Phyisio Control solves this problem. With it installed on ones' smartphone, potential CPR trained individuals would be notified of a cardiac arrest near them and be able to respond in order to provide life saving measures. The app works with the iOS and can be downloaded from iTunes or Google play for the Android market.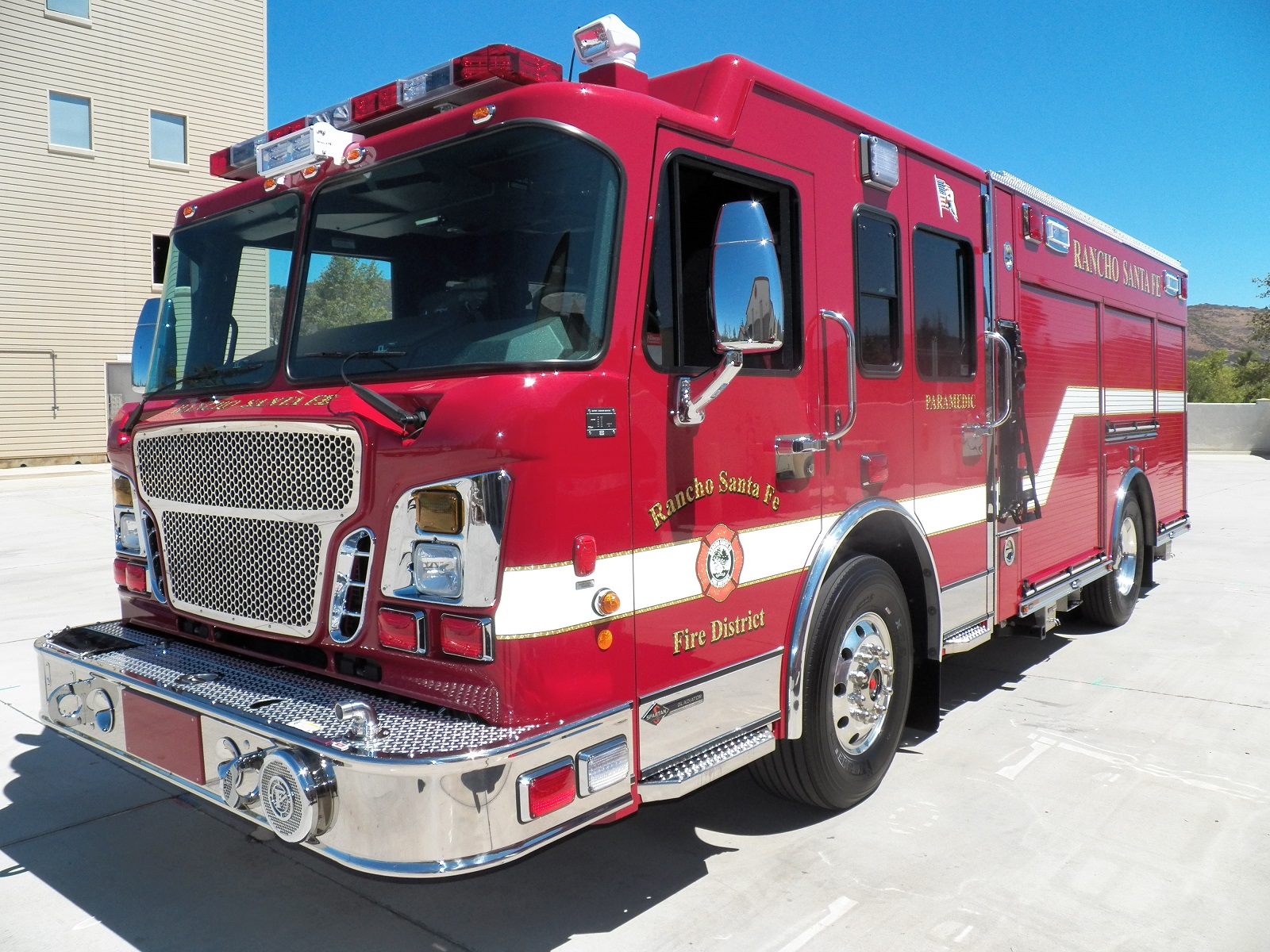 Local 4349 takes delivery of its new custom built, 550 HP, rear mounted pump, fire engine. The color of the engine, "Red", represents the current direction of the look of all future apparatus here in Rancho Santa Fe. This fire engine will be replacing the one currently covering the 4S Ranch area from Station number two and will be in service sometime within the next two to three months as customization and outfitting procedures are completed.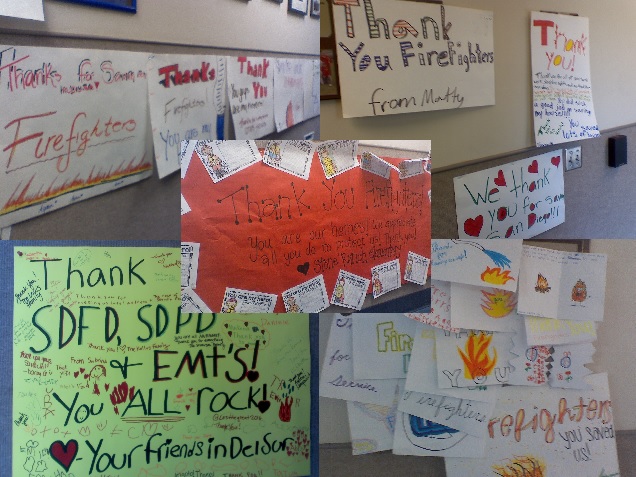 Words of praise weren't the only thing that showed up at the Rancho Santa Fe Fire Station on 4 Gee Road following the May 2014 Fire Storm that swept San Diego County. Dozens of vehicles and over a hundred people stopped by the station throughout the day to offer food, drinks, and snacks to the firefighters that have been busy battling the Bernardo and Cocos Fires. The Bernardo Fire raced through the San Diego community of Del Sur on Tuesday, but quick actions by the Local 4349 Firefighters, along with surrounding agencies, saved countless homes from the flames. Many of those who showed up were from that area and they could not thank us enough.
We, Rancho Santa Fe Firefighters, are proud to serve these communities and feel even more grateful when we see the support of families gathering and donating much needed supplies.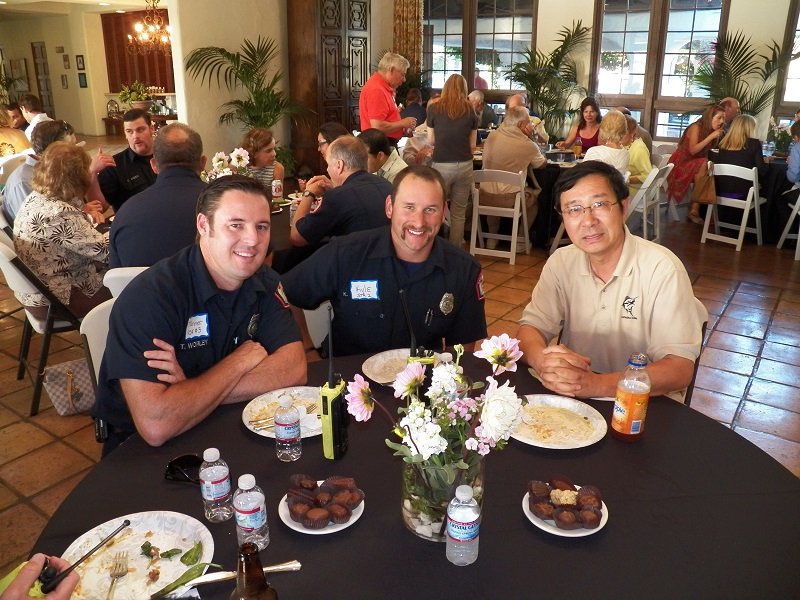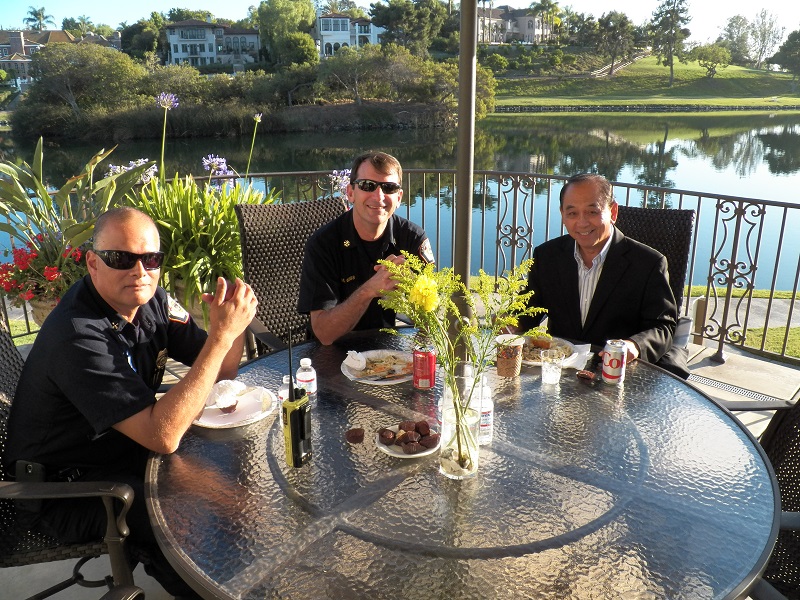 The community of Fairbanks Ranch orginized an appreciation dinner for the Rancho Santa Fe Fire Dsitrict and Local Sheriffs following the 1548 acre Bernardo Fire that raced towards their homes on May 13th. Fifty structures were theatened but not a single one was lost.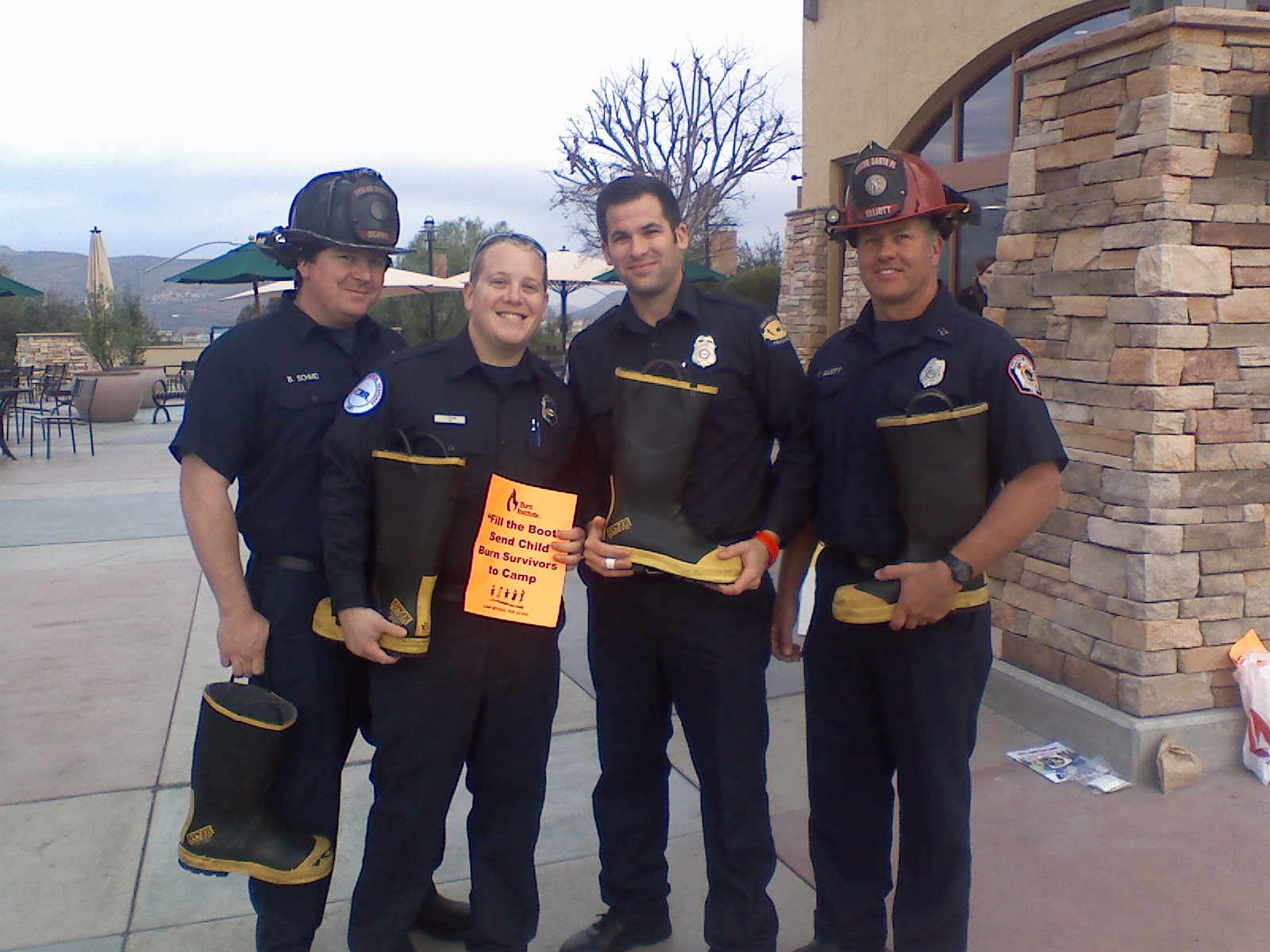 Local 4349 supports the Burn Institute during this years "Fill the Boot" event.
$16,000 was raised by Local 4349 to go to support burn injured children.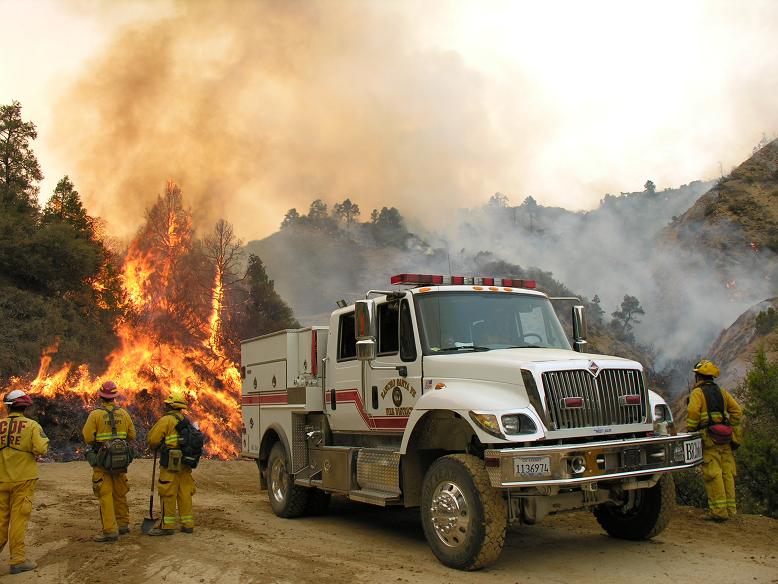 1.43 inches. That seems like a respectable amount of rainfall for a storm, right? The problem is, 1.43 inches is the actual number for the total amount for the entire season to date! That data has "Drought!" written all over it. With drought comes an increased risk of wildfire. Just this last month the southern region has seen unprecedented severe fire conditions on the Colby fire in Glendora that burned nearly 2000 acres.
It's no surprise that Southern California is hot and dry. It's why people live here. But, just about the time we get tired of seeing brown hillsides and high irrigation bills, the rainy season begins and replenishes the dry vegetation. Without that, the brush remains tinder dry and has the ability to ignite and spread rapidly. The average season rainfall for San Diego is 9.9 inches near the coast and in upwards of 40 inches in the mountains. The lowest seasonal rainfall on record for San Diego County was in 1961 with just 3.75 inches total. That year wildfire scorched 17204 acres from 6 fires but was overshadowed by the extremely destructive Bel Air Fire in LA County that destroyed 484 homes, damaged another 190, and burned 16,090 acres in just one fire. With more and more Red Flag warnings from hot, dry Santa Ana winds being initiated, the Rancho Santa Fe Fire Protection District remains on alert for a potentially busy year ahead.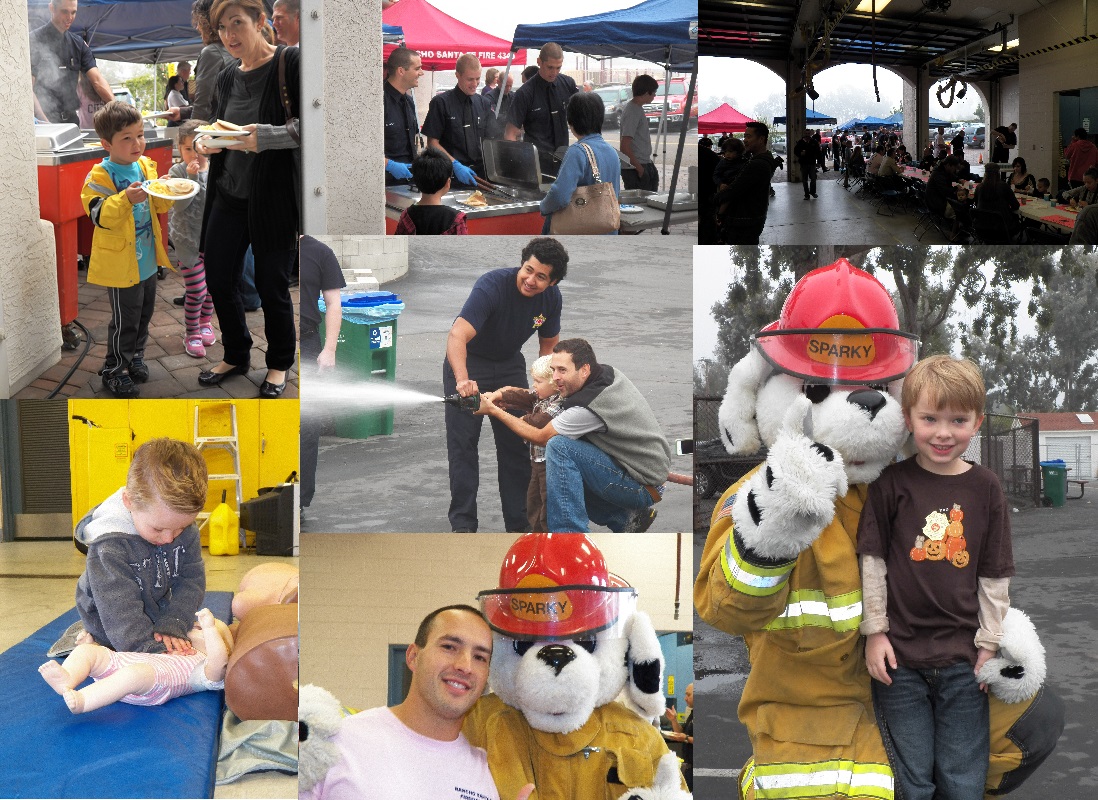 The Rancho Santa Fe Professional Firefighters, along with the RSFFPD would like thank the communittees of Rancho Santa Fe, Fairbanks Rancho, Cielo and 4S Ranch for making this year's Pancake Breakfast one of the best. All the proceeds will go to local 4349 Charities.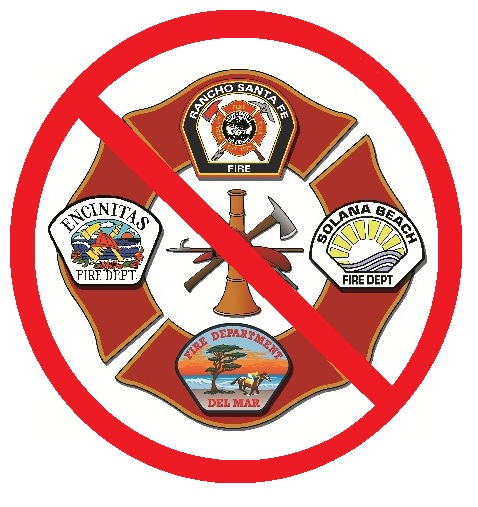 The Rancho Santa Fe Fire Protection District has severed ties with the neighboring cities of Encinitas, Solana Beach and Del Mar after nearly 4 years of management-only consolidation. RSF Chief Tony Michel said that the realization of duplicating efforts and the increasing workload in his own district lead the RSF Fire Board to end the agreement. Although contracting out battalion chiefs to neighboring cities was lucrative for the district to the tune of $300,000 a year, it came at too high a cost, according the Chief Michel. Now the RSF Fire district can have "full time" chiefs to manage the 4 station agency without being obligated to other duties. This change will not affect 911 service in Rancho Santa Fe as the other three cities continue to work toward consolidation without us.
For one day each year the traffic all around San Diego seams heavier than normal. It isn't long before you discover that it is caused by firefighters standing on the corners, holding fire boots, and collecting donations from generous drivers. These firefighters are receiving donations to send burn injured children to a survivor support program called Beyond the Scars.
Children who survive burn injuries endure a wide range of physical and emotional trauma that persists long after the initial tragedy occurs. As if growing up isn't difficult enough, imagine dealing with permanent scarring and physical deformity which can lead to social isolation. That is where the Burn Institute and local San Diego firefighters come into play.
With the donations collected, children ages 5 -17, can attend a 3-day winter camp and a weeklong summer camp held here in our local mountains. These camps provide a relaxed social setting for support and counseling to enhance the children's self-esteem. From the Local 4349 Rancho Santa Fe Professional Firefighters Association, on behalf of the Burn Institute, we thank you for your monitory support and apologize for the traffic it caused.
Does the idea of having 400+ people invade your house during one afternoon make you cringe? Well, it's all in a day's work here in Rancho Santa Fe. The Open House at the Fairbanks Ranch fire station #3 on October 21st was a resounding success. People from all over the area converged on the station to finally get a glimpse of the inside of the building they slowly watched erected for nearly two years. Visitors were sent off to roam the station on a self-guided tour with a map and strategically placed firefighters ready to explain and answer any questions around every turn. Refreshments and pastries were on hand along with CPR instruction, fire prevention demonstrations, fire apparatus tours, and a display showing pictures and maps of the devastating 2007 Witch Creek Fire. Children visiting the station even had a chance to win prizes playing a Fire Safety Jeopardy game. This ended up to be a valuable community education lesson for Fairbanks residents. They learned, to the suprise of some, that firefighters work 24 hour shifts spending 56 plus hours a week away from their families; that we had to bring in our own food and share in the cooking and cleaning duties; how we put in countless training hours; and how paramedic assessment engines responded to medical aid calls first to assess, treat and stabilize patients until a transporting ambulance arrives. Hopefully the Fairbanks Ranch residents walked away with a fresh understanding of the Local 4349's high level of service, dedication and sacrifice.